Where is Preacher John today?
This Calendar records where I might be, Lord willing and physically able, in the city of Boulder, Colorado (Google Maps).
Be Alert: The Winter Weather in Boulder is Effecting My Preaching Events!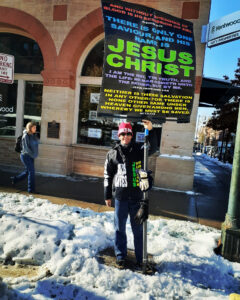 Please double check the dated event.
I keep this calendar updated and current; please double check the dated event a couple hours prior to coming out to preach, pray, or visit with me… things happen and things change… or call|text me if possible: 303.968.9030. I'm always available. Thank you for your ministry. In the name of JESUS!
—JC.
December 2019
Sun

Sunday

Mon

Monday

Tue

Tuesday

Wed

Wednesday

Thu

Thursday

Fri

Friday

Sat

Saturday

December 1, 2019

December 2, 2019

December 3, 2019

December 4, 2019

December 5, 2019

December 6, 2019

December 7, 2019

December 8, 2019

December 9, 2019

December 10, 2019

December 11, 2019

December 12, 2019

December 13, 2019

December 14, 2019

December 15, 2019

December 16, 2019

December 17, 2019

December 18, 2019

December 19, 2019

December 20, 2019

December 21, 2019

December 22, 2019

December 23, 2019

December 24, 2019

December 25, 2019

December 26, 2019

December 27, 2019

December 28, 2019

December 29, 2019

December 30, 2019

December 31, 2019

January 1, 2020

January 2, 2020

January 3, 2020

January 4, 2020
Let's Preach Together!
If you're in Boulder, let's preach together… you don't need anything except a love for Jesus and a love to see lost souls turn onto Jesus… everything else will come by the Holy Ghost teaching you what to do… so come on out! I should be somewhere here on the streets; 'Touching People For Heaven' by preaching the gospel of JESUS CHRIST; with my Banners, Intercessions, and Tracts. I'm at a total of 21 different corners; over a 4 week (28-day) rotation, for 3 hours per corner, from 1:30pm to 4:30pm (Winter Hours). Every Sunday is always at 28th/Pearl for "The drive-by-church… church-on-the-sidewalk!" Every Monday-Thursday I'm in and around Boulder – Banner Preaching! Every Friday I'm out of town preaching; 1st Friday in Denver (East) / 2nd Friday in Golden (South) / 3rd Friday in Nederland (West) / 4th Friday in Longmont (North). When there is a 5th Friday I'll be in Boulder (Center). Out of town hours are from 10:00am to 4:00pm. Every Saturday is my day off in the Lord. All my locations and events are recorded in my Calendar. I use this calendar to be accountable to the public at large. It currently works for me. And whenever I do cancel, we can still met at my house for bible study and prayer. Thank you for your love!
"Welcome to the drive-by-church… church-on-the-sidewalk!" Church meets at 28th and Pearl St., near the Target Store, EVERY Sunday from 1:30pm to 4:30pm.
As I've been preaching on the streets, I noticed that I've been saying, "Welcome to the drive-by-church… church-on-the-sidewalk!" This last Sunday, November 16, 2019, I've seen that I've actually been having church every single Sunday since May 26th! (I missed one.) Church meets at 28th and Pearl St., near the Target Store, every Sunday from 1:30pm to 4:30pm. Everyone is totally welcome. We meet as Preachers, preaching the gospel of Christ! Come prepared to intercede for souls, in Jesus name. Text/Call me: 303.968.9030.
—JC.
So what does John do at these street corners?
What does the word of God say about street preaching?
Looking to support Preacher John? An easy way is
PayPal.
Do you have a street corner in Boulder that you think would be perfect?
If you don't mind, please send me some information about this street corner you like, and why you believe God's word can be effectively preached from here… Blessings!
"And Philip said, If thou believest with all thine heart, thou mayest. And he answered and said, I believe that Jesus Christ is the Son of God."
—Acts 8:37, KJV
—JC.