Contact PREACHER JOHN CHOQUE.
Thank you for your faith… Salut!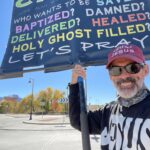 Being saved and a believer in the LORD JESUS CHRIST, you become an important family member. God knows who you are, and desires to fellowship with you. If for some reason, you are not born-again, please don't hesitate to contact me, we'll pray together and I'll gladly answer any questions you may have from the word of God, the Holy Bible, King James Version. God bless you my friend.
Ministry contact form here may be a good place to start our conversation, or even my Sunday Prayer Letter could be the place. The Sunday Prayer Letter is a great way to stay up with what is going on with this ministry, the church and a wonderful way for you to pray for all the souls being touched for heaven. It's easy to reply to any or all of the letters, and an easy to unsubscribe link is at bottom of each email. I sit down and personally write every letter, every Saturday afternoon and send it out early Sunday morning, about 5:00 AM, Boulder time.
GEC—Sunday Prayer Letter subscribe link address: PreacherJohn.ck.page
Ministry postal address: 2525 Arapahoe Avenue E4-541, Boulder, Colorado 80302
Ministry email address: WorkWithJohnChoque@gmail.com
Thank you very much! And there are many other ways to contact me. Simply go over and peruse my Be In Touch page to find out more about me; either way, until then…
Dieu te bénisse!
—JC.
PREACHER JOHN CHOQUE.
GOSPEL EVANGELIST CHURCH — "Touching People For Heaven"
---