GOSPEL EVANGELIST CHURCH, LLC.
Greetings friend!
"Building a new missionary church!"
"Gospel Evangelist Church at Boulder believes the word of truth, as it is written in the Holy Bible, Authorized King James Version."
—The KJV is the Bible for this church.
"The words of the LORD are pure words…Every word of God is pure…thy word is truth."
—Psalm 12 and Proverbs 30 and John 17, KJV.
---
Gospel Evangelist Church, LLC.
Registered in the State of Colorado, United States of America.
"Touching People For Heaven."
GEC Scripture Foundation — Mark 16:15-20, King James Bible.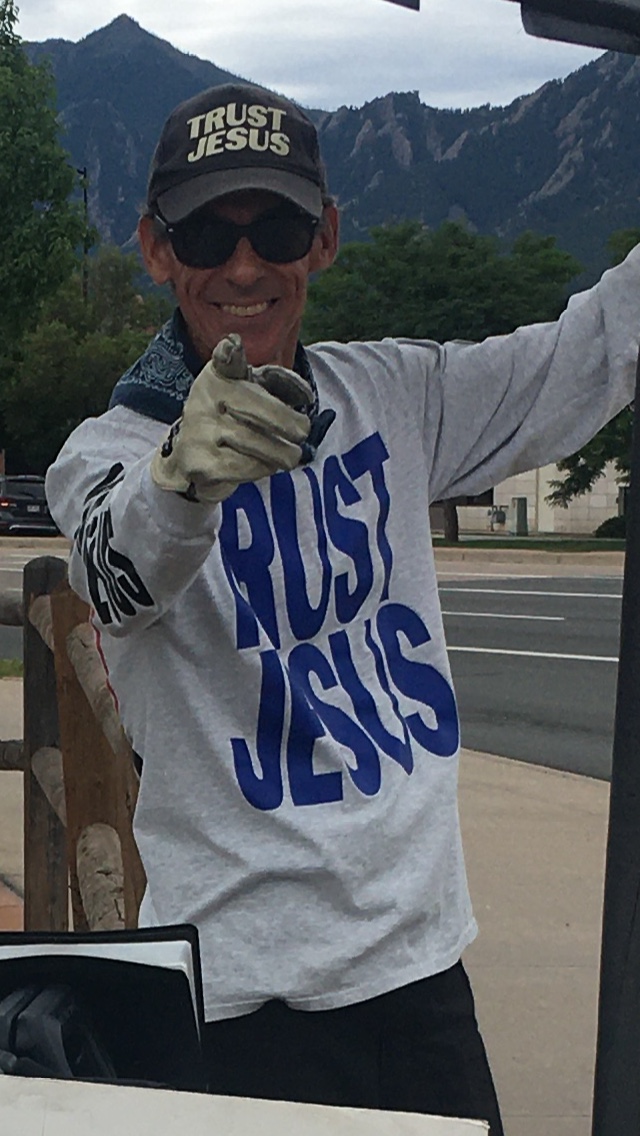 —PREACHER JOHN CHOQUE.
Street Preacher. Church Builder. Founding Pastor. Missionary.
"Building a new missionary church!"
Read about GEC — ON THESE PAGES.
1 — Read about GEC — GOSPEL EVANGELIST CHURCH.*
*You are here now.
2 — Read about GEC — STATEMENT OF FAITH.*
*Word of faith.
3 — Read about GEC — PRAYER OUTLINE.*
*Manner of prayer.
4 — Read about GEC — Truth STUDY.*
*Notebook.
5 — Read about GEC — Open GATES.*
*Bible fellowships.
6 — Read about GEC — Chief CONCOURSE.*
*Sunday church.
7 — Read about GEC — JOURNAL.*
*Sunday Prayer Letters.
8 — Read about GEC — PREACHING CALENDAR.*
*Advertising for JESUS.
9 — Read about GEC — STREET PREACHING RESULTS.*
*Building a new missionary church.
Dear friend, every week I personally sit down and write what is called the "Sunday Prayer Letter" which goes out about 7:00 AM, every Sunday morning from Boulder. This peculiar letter is what we use for preaching our sermons at Sunday church, and also for our message in our GATES (bible fellowships). The letter attempts to keep us all connected by contact and by prayer. We pray for you — you pray for us; pretty simple, and easy to do to be involved in how God is building Gospel Evangelist Church.
God bless you and thank you for your decision!
—SUBSCRIBE TO LETTER HERE.
DISCLAIMER.
Thank you so very much for taking some of your precious time to peruse our ministry website. We work hard for the Lord Jesus everyday. God willing, preaching on the streets 6 days a week. On Sunday, September 6, 2020, this ministry crossed over one million people, 1,000,000 who have passed by our preaching gospel banner… 1,003,000 people! This has taken about 16 months of labour for the Lord Jesus. The banner was raised on Memorial Day Weekend, Sunday, May 26, 2019 at 3:00 PM! The first day was 3 hours of non-stop ministry… or maybe it was more like fear, it was scary. As the months have gone by, the Holy Ghost has built our Preaching Calendar and Schedule, by adding more and more gate locations. As of January 2021, we're banner preaching at 34 gate corners in 9 key cities of Colorado. The Holy Ghost is teaching a lot of stuff that is producing real fruit for the kingdom of heaven. Praise the Lord! Gentle note, this missionary ministry website is in a constant state of UPDATING – REFINING – POLISHING – RENEWAL. Thank you for allowing sufficient time for the Holy Ghost to do what he has planned, as God builds this new missionary church. God bless you my dear friend! In Jesus Christ, our Lord and only Saviour. Amen.
You may contact me, information at Be In Touch.
—JC.
Do you KNOW Jesus Christ? Are you SAVED? Do you BELIEVE the gospel of Christ? Is your NAME written in the book of life? Do you have full assurance of FAITH?
—COME TO JESUS.