GIVING AND RECEIVING FOR HEAVEN.
PLEASE SCROLL TO THE BOTTOM OF THIS PAGE TO VIEW THE GIVING SECTIONS. THANK YOU FOR YOUR GENEROSITY!
Opportunity to give | to supply GEC Banner Preaching and Street Ministry: tools, resources, equipment, and minister subsidy. This link takes you to our PayPal page.
Thank you. Abundant blessing to you my dear friend. Thank you so very much!
MISSIONARY MINISTRIES that I cheerfully give to every month, and pray for every day in my Prayer Book. I realize this page refers to giving and receiving of money to support preachers, however one thing to remember is that this type of Giving And Receiving For Heaven builds the underground part that people don't see. This is NOT about buildings, salaries, clothes, jewelry, big houses, cars, planes… you know the story! This is about one thing… SOULS FOR HEAVEN! You can be apart of winning souls by giving and receiving. Study this scripture in Philippians…
"Now

ye Philippians

know also, that in the beginning of the gospel, when I departed from Macedonia, no church communicated with me as concerning giving and receiving, but ye only."

—Philippians 4:15 King James Bible.
Scroll to the bottom of this page to view the six missionary ministries that are suggested, IF, you are led by the Holy Ghost to give… these ministry missions are what I give to every month. This does not include my daily "giving to the poor" that I do while street preaching and ministering each day.
 You should pray, and ask God what he wants you to give, believe that you receive, and then give that amount. Have faith in God.
Thank you so very much for your goodness, and gifts, and offerings, and support for all missionaries in all the world. In Jesus name. Amen.
A SERIOUS MESSAGE BY PREACHER JOHN.
How many names will be written in heaven because you lived?
I'm believing the Lord JESUS christ FOR ONE MILLION PEOPLE IN HEAVEN BECAUSE I LIVED. ALSO, I'M BELIEVING THE LORD for at least 100 missionary givers, who will come forth and begin sending 20,000 gospel tracts to missionaries every year, through the Chick Publications platform and company who prints the Chick Tracts. Amen, and all until JESUS comes! Read LUKE 6:38, KING JAMES BIBLE. I think giving $50 every month will cover the shipping costs of 20,000 Chick tracts, it's what I give to chick mission fund.
Would you like to give to Chick Mission Fund? Chick tracts actually get read. it's amazing! I see it everyday on the streets as I preach. Chick Mission fund is set up FOR THEM to pay for the paper and the printing of all the gospel tracts. we, the givers simply and only pay for the shipping costs. that's a good deal!
I do this a little each month, so that by the end of the year, I've sent out about 20,000 tracts TO MISSIONARIES IN ALL THE WORLD. Look at this idea: when 100 missionary givers are giving 20,000 gospel tracts every year, this would equal about 2,000,000 tracts distributed to missionaries around the world! This is, "touching over one million people for heaven, every year UNTIL JESUS COMES!" now, How many names would be written in heaven, because of this activity? Read Luke 10:20, KING JAMES BIBLE. Would some of these names be because of your willingness and obedience in MISSIONARY giving?
The big question after you ARE saved is, how many names will be written in heaven because you lived? This is a serious message! Prayerfully study: 1 Corinthians 3:1-15, KING JAMES BIBLE. This topic is a critical one. Satan has been deceiving multitudes of Christians to think that building a worldly estate is heavenly pleasing. Wrong! MANY pastors want you to feel good, not me! I want you to go to work for THE LORD JESUS CHRIST. do the work of an evangelist!
This SERIOUS MESSAGE may be the answer to your calling from Matthew 6:19-21, KING JAMES BIBLE. Work with preachers FROM around the world who are actually preaching the gospel of Christ FOR SALVATION. In Jesus name. Amen.
RESPECTFULLY IN JESUS,
Preacher John Choque.
GEC—"Touching People For Heaven"
Street Preacher. Founding Pastor.
Missionary. Minister of the Lord Jesus Christ.
HOLY Scriptures to DILIGENTLY consider.
"And God said, Let the earth bring forth grass, the herb yielding seed, and the fruit tree yielding fruit after his kind, whose seed is in itself, upon the earth: and it was so."
—Genesis 1:11, KJV
"The blessing of the LORD, it maketh rich, and he addeth no sorrow with it."
—Proverbs 10:22, KJV
"The fruit of the righteous is a tree of life; and he that winneth souls is wise."
—Proverbs 11:30, KJV
"Will a man rob God? Yet ye have robbed me. But ye say, Wherein have we robbed thee? In tithes and offerings."
—Malachi 3:8, KJV
"Bring ye all the tithes into the storehouse, that there may be meat in mine house, and prove me now herewith, saith the LORD of hosts, if I will not open you the windows of heaven, and pour you out a blessing, that there shall not be room enough to receive it.
And I will rebuke the devourer for your sakes, and he shall not destroy the fruits of your ground; neither shall your vine cast her fruit before the time in the field, saith the LORD of hosts.
And all nations shall call you blessed: for ye shall be a delightsome land, saith the LORD of hosts."
—Malachi 3:10-12, KJV
"And he said unto them, Go ye into all the world, and preach the gospel to every creature."
—Mark 16:15, KJV
"Give, and it shall be given unto you; good measure, pressed down, and shaken together, and running over, shall men give into your bosom. For with the same measure that ye mete withal it shall be measured to you again."
—Luke 6:38, KJV
"And all things are of God, who hath reconciled us to himself by Jesus Christ, and hath given to us the ministry of reconciliation;"
—2 Corinthians 5:18, KJV
"Every man according as he purposeth in his heart, so let him give; not grudgingly, or of necessity: for God loveth a cheerful giver.
And God is able to make all grace abound toward you; that ye, always having all sufficiency in all things, may abound to every good work:
(As it is written, He hath dispersed abroad; he hath given to the poor: his righteousness remaineth for ever.
Now he that ministereth seed to the sower both minister bread for your food, and multiply your seed sown, and increase the fruits of your righteousness;)
Being enriched in every thing to all bountifulness, which causeth through us thanksgiving to God."
—2 Corinthians 9:7-11, KJV
"And how shall they preach, except they be sent? as it is written, How beautiful are the feet of them that preach the gospel of peace, and bring glad tidings of good things!"
—Romans 10:15, KJV
"Be not deceived; God is not mocked: for whatsoever a man soweth, that shall he also reap."
—Galatians 6:7, KJV
"And here men that die receive tithes; but there he receiveth them, of whom it is witnessed that he liveth."
—Hebrews 7:8, KJV
"And, behold, I come quickly; and my reward is with me, to give every man according as his work shall be."
—Revelation22:12, KJV
WHAT DO I REALLY WANT?
This is what I want…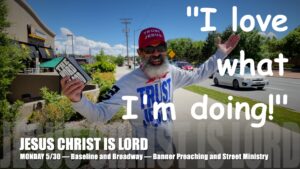 "Touching One Million People For Heaven."
Every year until Jesus comes. Even so, come, Lord Jesus.

THIS CURRENT Ten Year season of "Touching ten million 10,000,000 people for heaven." AS OF MAY 2019 TO MAY 2029, ages 65 to 75. THIS SEASON that i am in is ONE OF MANY SEASONS AND DREAMS AND VISIONS i have had over my lifetime of ministry, all FOR the harvest of WINNING ONE MILLION 1,000,000 LOST SOULS FOR HEAVEN, by the GRACE and mercy of god.
From this seed sowing of the word of truth, my hope is to give to God, a tithe on touching ten million people for heaven.

"There are one million people in heaven because you lived."
—JESUS (A vision I had at about 9 years of age.)
LET'S LABOUR TOGETHER IN THE LORD'S HARVEST.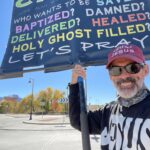 What we're looking for in financial supply in this year 2023 is to receive a faithful supply of about $1,300.00 per month, for about $20,000 for our current 2023 one year budget, the giving gets added to any surplus, therefore we are able to receive less and still meet our annual budget. Generally speaking, there might be about 100,000 people touched for heaven, each month by our missionary activities and preaching events and ministers lifestyle of witnessing for Christ; this is an approximation, therefore, for about $100.00 of supply; about 10,000 people might be touched for heaven. Praise the LORD! If you don't like numbers, just forget about it. I'm believing that, by the power of the Holy Ghost, I may be able to touch one hundred thousand 100,000 people for heaven every month, and this would reach my annual harvest goal of "Touching One Million People For Heaven"… every year until Jesus comes. By the grace of God, this may, along with all the other ministries I've completed over the decades, reach my vision and dream of touching ten million people for heaven, for the grand total of winning of one million souls for heaven. Yes, 1,000,000 lost souls won for the kingdom of heaven.
THIS is about YOUR account.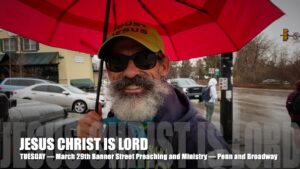 I'm a numbers man, and that's okay, so is God. Additionally, I will personally log over 2,600 hours of ministry work, not including any prayers, bible study, or my own lifestyle of living as a minister. Looking at these numbers: my average dollar amount may be $6.93 per hour. I am a frugal minister, and will be for the remainder of my life of earth.Also, I will be doing this work with or without any support… it doesn't matter to me, what matters is your account in heaven; this is one of the greatest opportunities for each person here at Boulder and Colorado and Around the World to participate in this ministry of the Lord Jesus Christ… all to the glory of Almighty God. Amen, and Amen.

GOD is the Lord of the Harvest.
This could be an fruitful, plenteous, and bountiful increase for you, the giver. Always remember that God is the Lord of the harvest, and he rewards us all. Also to be clear, I will still be preaching per 1 Corinthians 9:14, KJV, even if no one ever gives or supports, because God supplies. "But my God shall supply all your need according to his riches in glory by Christ Jesus." Philippians 4:19, KJV. Giving is first for the benefit of the giver. This is because it helps the giver be apart of God's great commission, even if they don't preach the gospel. Also it's written that the last shall be first and the first shall be last; the giver becomes the first. This is just a different way of look at giving. Also the scripture says, "Not because I desire a gift: but I desire fruit that may abound to your account." Philippians 4:17, KJV.
COVER the needs of building.
All my giving and living and budgeting and all ministry expenses and costs are coming out of my Social Security Retirement-2023 of $1,614.90, this is before the $164.90 Medicare deduction-2023, which is now $1,450.00 for my expenses to live on, and my Personal Savings-this savings depleted to zero on April 30, 2021. The $1,300.00 average per month, I'm believing for a 2023 annual budget of $20,000.00, is over and above my Social Security Retirement to cover the needs, costs, expenses, subsidy, and tools for building this new missionary church: Gospel Evangelist Church, LLC at Boulder and Colorado. GEC is being built by GEC Banner Preaching and Street Ministry. And by teaching and training other ministers and evangelists, for together we teach and preach and minister the gospel of the Lord Jesus Christ by the power of the Holy Ghost. Thank you for your love and your charity. In the Lord Jesus Christ. Amen.
I'm FULLY COMMITTED.
Everything I have is going into this ministry. I'm fully committed. I'll not stop until God brings me home. I'm totally and fully committed for the rest of my life. For me, this is extremely exciting and worth all the struggle, the pain, and the mockery. In Jesus name. Amen!
SUPPORT accounts are set.
 I/We have a PayPal account; website links to the account page, and is set up to receive support funds and donations. We use PayPal because they don't charge us a fee like others do. We also can receive funds and donations and mail at our mail postal address: Preacher John Choque, 2525 Arapahoe Avenue. E4-541, Boulder, Colorado 80302 USA. None of this giving is tax-deductible. We are NOT a tax write-off. We do not believe in the 501(c)(3) government controlled organizational structure. We pay the lawful tax like everyone else, just like Jesus did. Gospel Evangelist Church, LLC is a Non-Profit Limited Liability Company/Ministry registered in the State of Colorado, October 2020.
ASKING for intercessory prayers.
What is truly needed: to receive daily consistent intercessory prayers, supplications and fasting to God. Specifically, for our protection, and for lost souls to be saved in Jesus Christ. More specifically, please simply ask God what he wants you to do, and then do that thing God has asked you to do. I'm only a servant of Jesus Christ. Thank you for your faith.
GOD REWARDS every labourer in his field.
We understand that God rewards every labourer the same; some send, some plow, some sow, some water, and some reap… but we all get paid the same. Because we all work in the same field, for the same Boss, for the same Land Owner: Almighty God, the Creator of heaven and earth, God owns it all! Praise the LORD! Amen.
READ — Matthew 20:1-16, KJV. (Yes, I know there are other verses that say something else, and that's okay.)
Respectfully in JESUS,
—JC.
Preacher John choque.
Street Preacher.
Founding Pastor. Missionary.
Please invest a few minutes of your time into watching David Daniels' video here. He says it much better than how I'm attempting to communicate this important message. This is a key issue that needs addressing. Mr. Daniels is also from Chick Publications, the company where I get our gospel tracts. God bless you! In Jesus name. Amen.
"You Only Have One" —by David W. Daniels.
What is your purpose on earth?
Here's what Jesus said…
—David W. Daniels, Chick Tracts
VLOG 91 — Published on November 25, 2014.
Missionary Giving For Heaven.
GENTLE NOTE: The dollar amounts here are as of Monday May 1, 2023. These amounts do NOT include our "giving to the poor" – about $150/month at GEC Banner Preaching and Street Ministry. Also our "ministry subsidy" – $1000/month for the building of GEC. "All the tithe is John's giving to GEC." GEC is currently looking for ways to increase our giving… the Holy Ghost has led us to give to the following ministries, including our own street preaching. If you would like to match us in ANY or ALL of these givings, that would be beautiful! Simply do what God has asked you to do. Amen.
As an evangelist, lost SOULS MUST be won FOR the LORD JESUS CHRIST, our Saviour. When no more souls are won or touched we change to another ministry. This is our criteria by direction of the Spirit of the Lord. Thank you.
CHILDREN'S HUNGER
FUND
Food and gospel hope
$
50
/mo
2,000 meals a year and a local church pastor to minister somewhere in the world.
25 Cents per meal
Food Packs packed and shipped
This is over 2,000 meals per year
Vast volunteer staff
Local churches bring food, aid, and the gospel of Jesus Christ
Biblical training is provided!
CHICK MISSION
FUND
Gospel tracts shipped
$
50
/mo
20,000 tracts a year to missionaries somewhere around the world.
Chick pays for the tracts
Giving pays for all shipping
This is over 20,000 gospel tracts distributed per year
Chick has sent out 23 million tracts to missionaries in 60 countries
Chick has printed over 1 billion tracts!
PREACHER JOHN—STREET PREACHING MINISTRY FUND
"I want you to preach. I want you to minister. But first I want you to go to school."
—God calling me to ministry, 1974.
$
50
/mo
Central USA.
State of Colorado
2,000,000 people touched for heaven in 2023
2,000,000 souls interceded for in 2023
2,000 preaching tracts given in 2023
1,000 church cards in 2023
1,000 first names in prayer book in 2023
2,000 souls won for heaven in 2023
1,000 hours banner preaching and street ministry in 2023
Touching one million people for heaven, every year until Jesus comes! Even so, come, Lord Jesus. Amen.
GOSPEL EVANGELIST
CHURCH—ANNUAL BUDGET FUND
"You finished your schooling. Now, I want you to build me a church…"
—God calling me to build a church, 1987.
$
265
/mo
John's tithe to God, that there may be meat in God's house and for giving around the world.
Glorifying our Heavenly Father
Preaching the Lord Jesus Christ
Ministering the Holy Ghost
GOSPEL EVANGELIST CHURCH, LLC
Building a new missionary church!
GEC TRUTH STUDY
GEC OPEN GATES
GEC CHIEF CONCOURSE
Teaching and preaching and ministering out of the Holy Bible, Authorized King James Version.
BRIAN CRANFORD—STREET PREACHING MINISTRY FUND
Eastern USA.
"The Town Preacher"
"Contending for the faith"
Street Preaching and Ministry
GABRIEL MAGANA—STREET PREACHING MINISTRY FUND
Western USA.
"Saved By Preaching"

Preaching
Teaching
Discipleship
(The best way to give to Gabe is using the PayPal link on his YT channel.)
---
DISCLAIMER.
Gentle Note: Giving to Gospel Evangelist Church,LLC, and Preacher John Choque Missionary Fund, and Chick Mission Fund are NOT tax-deductible and is regular income and taxed according by law. They are NOT 501(c)(3) organizations. Children's Hunger Fund IS a tax-deductible organization. Currently, I am not aware of the tax status of Brian Cranford Ministry nor of Gabriel Magana Ministry. Thank you for your goodness and faith and charity. In the name of Jesus Christ, our Saviour. Amen.
As of January 2023, our Missionary Giving for Heaven is about $16,000/year, which is about 80% of our 2023 Annual Budget of $20,000 we are believing for, in the Lord Jesus Christ. With this giving we are hoping to touch about 2,000,000 people for heaven this year of 2023. All to the glory of God.