"…Prepare ye the way of the Lord, make his paths straight. Every valley shall be filled, and every mountain and hill shall be brought low; and the crooked shall be made straight, and the rough ways shall be made smooth; And all flesh shall see the salvation of God. …he shall baptize you with the Holy Ghost and with fire:"
—Luke 3:4-6,16, KJV.
Thank you for your faith… Salut.
My name is JOHN CHOQUE (French Belgium surname, pronounced 'shuck', like shucking corn, sort of. Choque means to 'shock', like an electrical shock.)
I'm first born American.
My Dad was born in Montreal, Quebec. My Grandfather was born and raised in Brussels, Belgium. He graduated from the University of Brussels in Horticulture Science. My Grandmother was born in Montreal, Quebec. She was a Concert Pianist for the Toronto Symphony.
My Mother and her Parents were born and raised in Texas and Oklahoma. Their career was the Railroad for over 50 years. They moved to Southern California early in life.
I was born in San Gabriel, California at 8:12 am on November 7, 1953. I was called from the womb to be a Priest.
I was born-again onboard USS Rigel AF-58 US Navy about May 3, 1974. Two weeks later called by God to Preach.
I'm a Preacher. Called to preach, to minister, and to build God a church. Gospel Evangelist Church in Boulder, Colorado is being built by building cell ministries that will form the church family of this part of the body of Christ.
Let's work together to build GEC Bible Study with the Spirit of truth, and GEC Cell Ministries filled with joy, and with the Holy Ghost, and GEC Church Concourse where we shall see the salvation of God. This is an exciting and blessed way to witness the Holy Spirit work in real-time!
There's lots of ways we can work together for the same end game. Therefore, some of the ways to Be In Touch with me are listed here. Let's build together; God rewards us all the same. Praise the LORD!
Louer le Seigneur!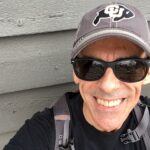 Use this to add yourself to my daily prayer list with sunday prayer letter. →

EMAIL
Email — JOHN CHOQUE at WorkWithJohnChoque@gmail.com One way to be in touch with me is by email. We can email each others phone number and then we can text or call. Let's get together. If you're in Boulder, let's have coffee. I can be found on the streets of Boulder preaching with my gospel banner, praying intercession for the people, and handing out my gospel tracts/booklets. Thank you for your meekness.
Here's my calendar. →
CONTACT
Contact — JOHN CHOQUE This contact form is a quick simple way to be in touch with me. I usually answer in a day or two. Thank you for your kindness.
DAILY PRAYER LIST
Prayers — JOHN CHOQUE My daily prayer list is the very best way to stay up with me! I pray every day. Plus I write a prayer letter for every Sunday and send it to every one on my daily prayer list. And in this way, everyone may respond! Please, add yourself to my daily prayer list. You'll be pleasantly edified, exhorted, comforted. Thank you for your temperance.
CALENDAR
Calendar — JOHN CHOQUE This calendar is a simple way to find out where I might be in the City of Boulder, Colorado. This is something new that may or may not work, not sure yet. Currently, I'm banner preaching at 16 different street corners, rotating every 3 weeks, and consistently at 28th/Pearl every Sunday. Thank you for your joy.
POSTAL MAIL
Mail to — JOHN CHOQUE. Touching People For Heaven. 2525 Arapahoe Ave. E4-541, Boulder, Colorado 80302 USA All packages and mail are sent here. I am willing to receive offerings, however all I ask is the right to give whatever I receive. Thank you for your love.
MISSIONARY GIVING FOR HEAVEN
Giving For Heaven — Missionary Giving This could be a wonderful thing; to put a little bit of money, time, and prayers into and watch it appreciate each quarter with people being saved in Jesus Christ! Preaching events are being created for "Touching 1,000,000 People For Heaven; every year, until Jesus returns!" Read Proverbs 11:30, KJV.
Children's Hunger Fund — Become A Hope Partner. How incredibly amazing is this missionary outreach – 25 cents equals 1 meal. Let's each touch 1,000 families; every year! This ministry is a unique opportunity to touch the lives of an enormous amount of people. CHF is a soul-winning ministry! Read Matthew 25:40, KJV.
Chick Mission Fund — Become A Missionary Giver. Help missionaries preach with gospel tracts from Chick Publications. Let's each send 10,000 Chick Tracts to missionaries every year. Together, let's find 100 soulwinners who will do this with us; that would be 1,000,000 people touched for heaven; every year! Read Matthew 6:19-21, KJV.
PERSONAL MINISTRY
JohnChoque.org — JOHN CHOQUE MISSIONARY.
JohnChoque.com — JOHN CHOQUE WEBSITE.
JCActs221Blog.com — JOHN CHOQUE BLOG.
Paypal.me/JohnChoque — WORK WITH PREACHER JOHN VIA PAYPAL.
WorkWithJohnChoque.com — WORK WITH PREACHER JOHN VIA PATREON.
Podcast.JCActs221Blog.com — OFFICIAL PODCAST SHOWS OF PREACHER JOHN.
PreacherJohn.ck.page — PREACHER JOHN'S DAILY PRAYER LIST WITH SUNDAY PRAYER LETTER.
WEBSITE SECTIONS
I chose this current website theme style to represent a playful atmosphere, an eclectic nature, and a touch of French, because these three styles are sort of who I am. I feel and live like a kid in a home that is a mixture of all kinds of style, elegance and color. I've analyzed the theme and truthfully cannot discern any evil, to those who look for it.
TURN ONTO JESUS. — This page is a simple message to get saved.
BLOG | JOURNAL. — Where my discourses, sermons and general entries reside.
DAILY PRAYER LIST. — The landing page to add yourself to my daily prayer list.
JC HOME PAGE. — The front page that you land on, the start of the website.
PODCASTS. — Where my daily podcast episodes live.
GOSPEL EVANGELIST CHURCH—JOURNAL. — A simple random style journal containing short notes of the day and other things relating to GEC. This page also has its own website name, GospelEvangelistChurch.org (I own this domain name for the future church website.) Seriously consider working with me to build cell ministries for GEC. Thank you!
PRIVACY POLICY. — General legal information for website visitors, also the Terms and Conditions legal page.
BIBLE ANSWERS. — This page is a simple random list of bible questions with the answers from the bible. I really like this page! I often add to it as people ask me interesting questions while I'm out street preaching with my banner.
FUNDING FOR JOHN CHOQUE MISSIONARY, and BUILDING A MISSIONARY CHURCH CONCOURSE – GOSPEL EVANGELIST CHURCH – MARK 16:15-20, KJV and ROMANS 10:8-15, KJV
Patreon — JOHN CHOQUE is creating ministry opportunity for people… and creating Christian discourse content for cell ministries that will build a brand new missionary type of church in Boulder, Colorado. JC membership link. Thank you for your goodness!
PayPal — JOHN CHOQUE is another option that people who have given into this ministry. It seems like PayPal is an easy option for many givers. Thank you!
God wants everyone involved with what he is doing…
Thank you for joining with me in funding this ministry of preaching the gospel of Christ to the people! It really helps take the pressure off and eases the concern. It's a constant battle to fight personal need to feel secure; just being honest. Okay? The above are JC giving links. Thank you for your prayers! I truly appreciate the encouragement and edification. God wants everyone involved with what he is doing… Therefore, if not me, then find another missionary doing the work of an evangelist, and then give cheerfully, bountifully, and consistently! This may help, please read carefully this entire chapter; 2 Corinthians 9:1-15, KJV. Thank you for all that you are doing to support real missionaries doing the work of an evangelist. Bonjour!
PEOPLE
Yes… I have a vision of one million people in heaven because I lived. As a preacher, minister, and missionary; along with my forty year career as a professional driver; I am consistently looking for ways of 'Touching People For Heaven.' Because to be saved in Jesus Christ is REAL. —Acts 2:21, KJV
ABOUT PREACHER JOHN
Thank you for your faith. I preach, minister, and build from a perspective of living on the road as a trucker for most of my life, forty years and over three million miles. The road is a hard lifestyle and thus builds a hard preaching style. Being direct and having a mindset that says, I may never see you again, puts grit into my ministry. People either like it or they don't. Turn onto JESUS! Because, this may be your last chance! We just don't know what's around the next bend in the road… or in our life, is that right? Now, simply call out to Jesus like the Holy Bible says in Acts 2:21, KJV.
Some trivia here, the name of this site is JCActs221Blog because the JC is my initials. The scripture Acts2:21 is the verse I got saved by. And this is my personal missionary Blog. God bless you!
Au revoir!
—JC.
ADD YOURSELF TO MY DAILY PRAYER LIST