PERSONAL LETTERS.
Let a man so account of us, as of the ministers of Christ, and stewards of the mysteries of God.
—1 Corinthians 4:1 KJV
My Personal Letter is designed to show grace and mercy, teaching a simple message of heaven.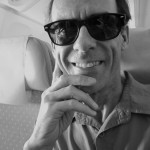 When inspired, I sit down and write a Personal Letter to each person on my mailing list. The letter is an email and is usually about life, ministry and traveling the road. I also talk about Children's Hunger Fund, because it's important to us. It's the only charity we support. Of course, Gospel Evangelist Church is our key ministry!
—John.