Where is Preacher John today?
This Calendar records where I might be, Lord willing and physically able, in the city of Boulder, Colorado (Google Maps).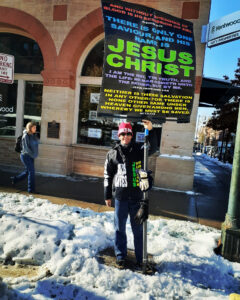 Please double check the dated event
I keep this calendar updated and current; please double check the dated event a couple hours prior to coming out to preach, pray, or visit with me… things happen and things change… or call|text me if possible: 303.968.9030. I'm always available. Thank you for your ministry. In the name of JESUS!
—JC.
My Sabbath Day unto the LORD!
I take this day off from all public ministry and spend the entire day with God! It's a marvelous day with my God and my Saviour! A day of rest in the Lord Jesus Christ. The Holy Spirit asked me to make this day a Sabbath unto God on my very first Saturday in Boulder, May 6, 2017. I'm still doing it as directed!
Let's Preach Together!
If you're in Boulder, let's get together… I should be somewhere here on the streets; 'Touching People For Heaven' by preaching the gospel of JESUS CHRIST; with my banner, intercession, and tracts. I'm currently at 20 different corners; with a 3 week rotation, for 4 hours per corner, from 1:30pm to 5:30pm (this use to be 3-6, all summer). If you'd like, at the bottom of this page you can submit an idea of a good street preaching corner here in the city of Boulder… blessings!
So what does John do at these street corners?
What does the word of God say about street preaching
Do you have a street corner in Boulder that you think would be perfect?
If you don't mind, please send me some information about this street corner you like, and why you believe God's word can be effectively preached from here… Blessings!
"And Philip said, If thou believest with all thine heart, thou mayest. And he answered and said, I believe that Jesus Christ is the Son of God." —Acts 8:37, KJV
—JC.