Where is Preacher John today?
MY PREACHER CALENDAR records where I may be preaching the gospel of JESUS CHRIST, God willing and physically able, in the city of Boulder, Colorado (Google maps) and nearby cities and towns of Colorado, USA!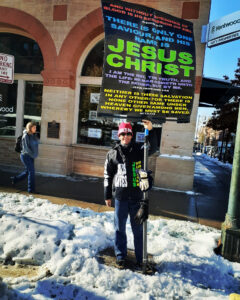 My preaching calendar is kept updated and current. Please double check the dated event Two Hours (2) prior to coming out to preach or minister with me… things happen and things change. You may also call|text me: 303.968.9030. I'm usually available and getting better at contacting people. Thank you for your prayers, and supplications, with fasting and support. Thousands and thousands of souls are being touched for heaven. In the name of our Lord and Saviour Jesus Christ. Amen!
—JC.
CALENDAR OF PREACHING EVENTS FOR PREACHER JOHN.
DONATE.
Thank You.
Therefore they that were scattered abroad went every where preaching the word.
—Acts 8:4, KJV
STREET PREACHING RESULTS:
And they went forth, and preached every where, the Lord working with them, and confirming the word with signs following. Amen.
—Mark 16:20, KJV
Let's preach together!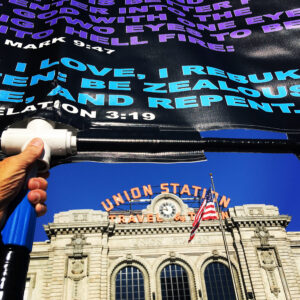 When you're in Boulder, let's preach together… you don't need anything except a love for the LORD JESUS CHRIST and a love to see lost souls turn onto Jesus… everything else will come by the Holy Ghost teaching you what to do… so come on out! I should be somewhere here on the streets; 'Touching People For Heaven' by preaching the gospel of JESUS CHRIST; with my Banner, Intercession, and Tracts.

"So that servant came, and shewed his lord these things. Then the master of the house being angry said to his servant, Go out quickly into the streets and lanes of the city, and bring in hither the poor, and the maimed, and the halt, and the blind. And the servant said, Lord, it is done as thou hast commanded, and yet there is room. And the lord said unto the servant, Go out into the highways and hedges, and compel them to come in, that my house may be filled."
—Luke 14:21-23, KJV.
"Building a new missionary church!"
I banner preach at 21 different corners; spread over a 4 week (28-day) rotation, working 6 days a week, for 5 hours per corner, from 12:00 NOON to 5:00 PM , Summer hours.I fly a large 4-foot by 4-foot gospel banner on a 10-foot pole. I preach intercession in the Holy Ghost for every single soul that passes by me. I give out a gospel tract to every person that I have a conversation with. I ask for their first name and now this new person goes on my daily prayer list; in which I mention their name to God every day in prayer. This is a key to growing a heart of love for people!
Every Sunday I'm at the corner of 28th and Pearl St. by the Target Store in Boulder, Colorado. Everyone is invited!
"Welcome to the drive-by-church… church-on-the-sidewalk!"
Every Monday-Thursday I'm in and around Boulder – Banner Preaching! Every Friday I'm out of town preaching; 1st Friday in Denver (East) / 2nd Friday in Golden (South) / 3rd Friday in Nederland (West) / 4th Friday in Longmont (North). For the months with a 5th Friday: January in Grand Junction (West) / May in Ft. Collins (North) / July in Burlington (East) / October in Pueblo (South). Out of town hours are from 10:30am to 5:30pm. Every Saturday is the sabbath unto the Lord and is my day off in the Lord, and I keep it holy.
All my locations and events are recorded in my calendar. I use this calendar to be accountable to the public, because I have a public ministry. It currently works for me. And whenever I do cancel, we can still met at my home for study, prayer and ministry. Thank you for your love!
By the way, you may be interested to see my street preaching results in 2019… link to 2019 results. And also my link to 2020 results, ongoing running totals! It's amazing how persistent and consistent little events every day can add up to great amounts, over time. Always remember, that your first year is by faith; and your second year becomes total action! Praise Jesus!
WATCH AND PRAY: A Shield. My Health. Lord Provides. Fellowlabourers in the Lord. Opportunity to Preach. Souls for Heaven.
IN JESUS NAME. AMEN.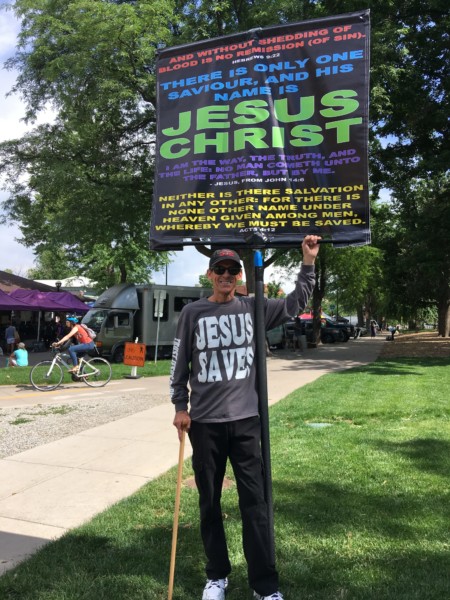 This amazing year of 2020, God willing, I'm attempting to preach everyday, six days a week, Sunday through Friday; for a combined labour of preaching hours to physically log 1,000 hours of preaching for this year. At a conservative estimate of 1,000 souls per hour, the actual number is around 3,600 souls. I'm a numbers guy!, hopefully this might reach my annual harvest of "Touching One Million People For Heaven, Every Year; until Jesus returns!"
Along with my Gospel Banner; I preach Intercession in the Holy Ghost, with tongues: Romans 8:26, KJV and stand in the gap: Ezekiel 22:30, KJV, for every soul that passes me by; and for every person that I have a conversation with, I give a Gospel Tract, it's a salvation booklet with my contact information on the back of it, plus I attempt to ask for their First name and Email address for my Sunday Prayer Letter and Daily Prayer. So there is much more going on at every corner than just standing with a banner, a sign… "ADVERTISING FOR JESUS CHRIST!"
In addition: because so many people ask me; I don't get paid to do this. I don't work for a church. I don't ask for donations. I'm just doing what the Holy Ghost told me to do… "I want you to advertise." … "Use a banner." However, if the Holy Ghost asks you to give or support this ministry, I sincerely appreciate your giving, your sacrifice, and your love; this is a work of faith and a not-for-profit, in a worldly sense. Amen?
By the way, many people ask me where I got my gospel banner and gospel shirt from; PreachingGear.org is the ministry where I obtain some of my street preaching tools. I'm also asked how can I give to you? I have a giving-PayPal account set up. I have a giving-Patreon account set up. I also receive postal mail at giving-Address here: 2525 Arapahoe Ave. E4-541, Boulder, CO 80302. This ministry is not tax-deductible; this is NOT a tax write-off. This ministry is NOT a government structured and controlled organization. I pay regular taxes on donations as per law. Thank you for your charity and faith.
Thank you so very much for even considering supporting this missionary work! As you know, the word says, one soweth, and another reapeth… both may rejoice together! Take a look at John 4:36-37, KJV.
For our gospel came not unto you in word only, but also in power, and in the Holy Ghost, and in much assurance;
—1 Thessalonians 1:5, KJV
DISCLAIMER
I do what I can to keep this calendar updated and current, however we all know that the devil is working to stop every ministry and thus all of us need to be vigilant in our prayers and supplications and fasting to God. My mobile phone number is made available on this page for anyone to contact me. Thank you for your kindness.
—JC.