GOSPEL EVANGELIST CHURCH, LLC.
"Touching People For Heaven"
"Gospel Evangelist Church at Boulder and Colorado believes the word of truth, as it is written in the Holy Bible, Authorized King James Version."
KJV is the Bible for this church.
"The words of the LORD are pure words… Every word of God is pure… thy word is truth…"
Psalm 12. Proverbs 30. John 17. —KJV.
---

STREET PREACHING RESULTS. | 2019. | 2020. | 2021. | 2022. |
GEC—PREACHING CALENDAR.
This preaching calendar records wherever we might be banner preaching and ministering the gospel of JESUS CHRIST by the will of God, in the city of Boulder and round about the cities and towns of the state of Colorado, for the purpose to build an house unto the name of the LORD my God. GOSPEL EVANGELIST CHURCH.
See Street Preaching Results in 2022.
I write a semi-daily diary, log, or thoughts on the building of GEC at GEC—Calendar News 2022.
"Upon this rock I will build my church; and the gates of hell shall not prevail against it."
—JESUS, from Matthew 16:18 King James Bible.
"God is building Gospel Evangelist Church. No man will ever be able to say that they built this church. In Jesus name. Amen." —John Choque, missionary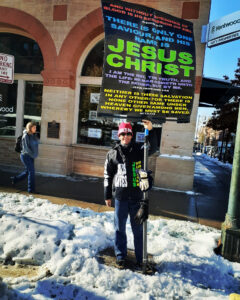 TWO HOUR NOTICE: This preaching calendar is kept current every day. Please double-check the dated event about two (2) hours prior to the scheduled hour. If I'm not there yet… start without me, by praying for the location, the people, and lifting up the word of God. See ya' soon! In Jesus name. Amen, and Amen.
✝️ —Preacher John Choque.
GEC—"Touching People For Heaven"
---
---
---
This here is the calendar the Holy Ghost has built for Preacher John's GEC—Banner Preaching and Ministry for the purpose of building Gospel Evangelist Church at Boulder and Colorado.