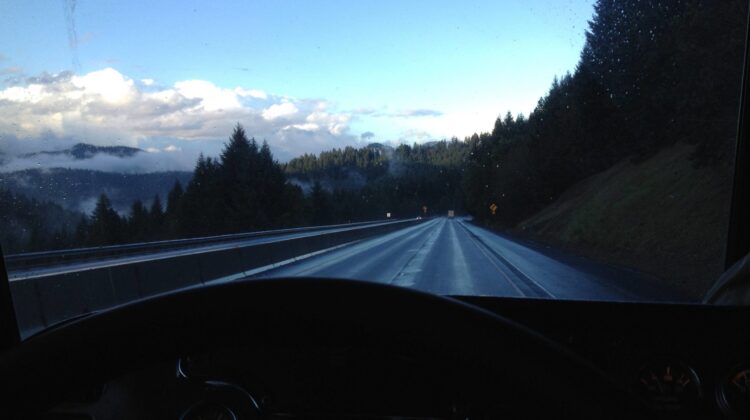 Today I was reminded of peace. Not the kind of peace most of us talk about. The peace I was thinking about most of today, it's now about 9:30 PM, is the peace that only God can give. The Word calls it "the Peace of God that passes your understanding"… that phrase is something to ponder on for the rest of the night.
Monday February 9, 2015
Madras, Oregon
I am taking a break here in Madras, Oregon, population 6,225… "salute!" Madras was somewhat famous during WWII… there was a large Army base that trained much of our troops for battle. Today it's a nice a little town, I actually like the "peacefulness"…
Peace to me is like, or rather it looks like an jet-airliner on auto-pilot without any turbulence. The big air-ship smoothly and peacefully gliding through the air at 40,000 feet. All is well and on schedule, maybe a few minutes ahead. Ground control is doing their job and the air-ship crew are peacefully moving about the cabin serving our customers. Peace is knowing where you are, where you're headed and knowing all is well. There is a peace in knowing superior information. The flight deck crew have that type of peace.
I too, as a professional driver have peace that my equipment is performing well and all is well and I'm on schedule and shall arrive on time. I have peace.
One thing I have, as well as all the other Believers in the world have, that is an eternal peace. I know exactly where I am. I know exactly where I am going. I have peace.
True, many times on the outside looking at me, one could say, he isn't acting peaceful. I know that, and by reminding myself to slow down, I am a thin quick acting person, I would look or appear more peaceful. But that doesn't bother me, because I really don't care how people look at me. When I turned 40, all that concern of what people thought of me ended. That was 21 years ago! At 61 I truly don't concern myself with my appearance. I look clean and neat, however my actions, I attempt to be sensitive to the Holy Spirit.
All day long I am in prayer with my spiritual tongue. I pray or intercede for nearly every person that is in my sphere of influence. It is as if I'm always praying, you know all ways speaking to God about everything and everybody. Like the Army motto, "Always Ready!"
I am always ready to give a word of prayer or an answer about God or actually anything that concerns anyone. One aspect of my calling is Wisdom, or in other words, always ready with an answer.
Praise God! I love the Lord more than I can count! I praise you Jesus for giving me the time here in Madras to write this journal entry. I pray that whatever words that come out of me can touch some for heaven!
Friend, if by chance you may not have peace, consider a relationship with our Savior Jesus Christ. The simple faithful act of and child-like approach to peace with God is only a prayer away. Something like this… "Jesus, if you're real, here I am."
Now go read John 3:16 and be blessed with abundant peace that surpasses all of your conscious thinking and reasoning.
John :)
Madras, Oregon
Monday February 9, 2015