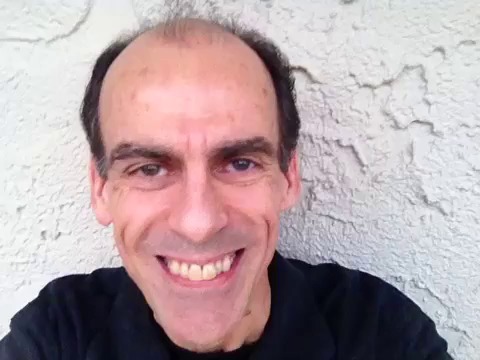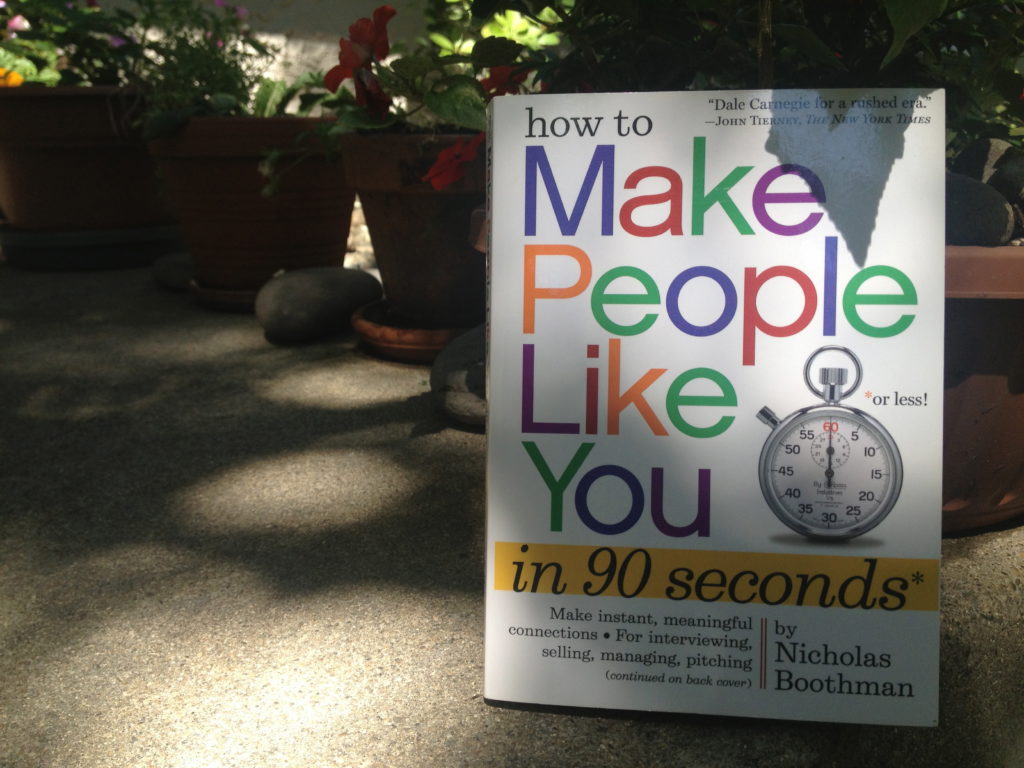 "I snapped this photo on my porch here in Redding, California of the front cover of this insightful book titled 'How To Make People Like You In 90 Seconds'!"
Discover The Benefits of Connecting
Nicholas Boothman had a 25 year career as a fashion and advertising photographer. He has discovered that the benefits of connecting with people can be taught in a natural and easy way. Nicholas says that the principles for establishing rapport were universal no matter where he happened to be creating his photography, be it the lobby of the Ritz Hotel in San Francisco or a ramshackle hut on the side of a mountain in Africa!
Many of the words and phrases here in my blog post about the benefits of connecting with people are directly perused from Nicholas's insightful work. Please, take the time to secure your own copy of Nicholas Boothman's book and study why and how the benefits of connecting can be the track to follow for "success".
The "secret" of success is not very hard to figure out. The better you are at connecting with other people, the better the quality of your life.

-Nicholas Boothman
Book Contents
There are three major parts of 'How To Make People Like You':
One: First Contact
Two: The 90-Second Land of Rapport
Three: The Secrets of Communications
There is a marvelous workbook in the Appendix section of the book:
The Small Things That Make a Big Difference Workbook
Here is a gem I found on page 5 … "Studies show that people who stay socially and physically active have longer life spans." This study comes from the work by the MacArthur Foundation and the International Longevity Center in New York and at the University of Southern California.
Whether you like it or not, people decide how they feel about you in the first two seconds of seeing you, or hearing you, if it's on the phone. If they like you, they will unconsciously tend to see the best in you and look for opportunities to say "yes". If they don't like you, the opposite is true.

-Harvard School of Health Sciences
Vital To All Things
Over and over again, I see that the benefits of connecting with people are vital to all things! It doesn't really matter who you are or what you think or how you feel. The fact that people are the most important on this planet and dare I say, in all the universe! People are not what they appear. What? Think about it, are people simply animals that walk on two legs? No. People are God's most treasured creation! You my friend, are the most priceless Treasure in all of God's Kingdom! There is not ever, I mean EVER NEVER, been another YOU!
What We Surmise
By learning the skills and attributes of connecting with people, each of us may affect more than we surmise. When we connect or give to someone we inturn deposit a seed of who we are and what we are about. What? In other words, people are spirit beings who live in a physical body with a physical brain. Being a spirit, not an animal per se, we affect the next person we connect with by our spirit. Our spirit recognizes the other person's spirit. If you happen to be a Child of God, i.e. Born Again (John 3.16), then you have the Spirit of God, or a portion of His Spirit. Therefore when you touch people, you touch them with God. I know, that sounds to weird for a blog post. It's just what came out of me as I am typing away. It all makes perfect sense to me! It's just difficult to express right here. Pray about it my friend.
When you meet someone new, immediately point your heart warmly at that person's heart. There is magic in this.

-Nicholas Boothman
Final Thoughts
As a career professional driver for more than 37 years I have found that my thinking of people has shaped my driving and operating skills. I see the good in me and others. I also see the bad in me and others. This seems to manifest itself in the mannerisms of the driving public. I have logged over 3,000,000 miles. In all these years I have seen people from every walk of life. There is no city or town or state that I have been in or through that the benefits of connecting with people in a positive and inspiring way has not in turn benefited myself, and thus benefited the other driver. Profound thoughts from a truck driver! :)
10-4?