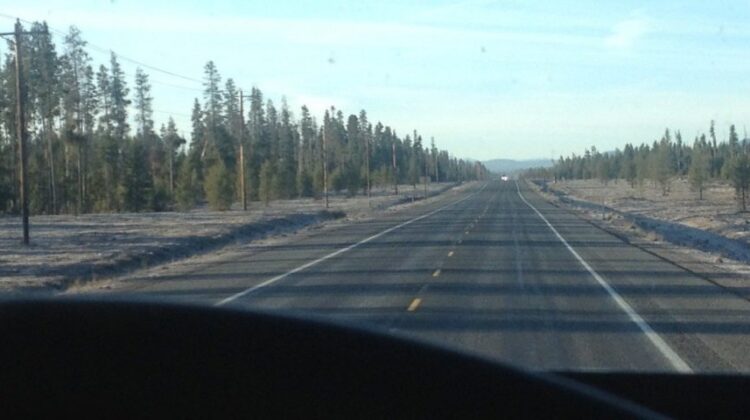 It's just amazes me how much God loves His children. Because I am saved through my faith in Jesus Christ I can call God my Heavenly Father. I am amazed everyday at the Father's love for all His kids!
Wednesday February 18, 2015
Biggs Junction, Oregon
Today I was given a great opportunity to meet an awesome servant minister of the Lord. While fueling my rig in Yakima, Washington Mr. L shared his life story! What an inspiring story of love of the Father. To hear how God is so very much real in Mr. L's life is a testimony to the incredible redeeming power that God wields. Truly, all are called but few have chosen to come to Jesus. Mr. L came when in the dungeon (prison cell) of his life. His wife received salvation through Christ by simply hearing her husbands story of how he got saved there in that cell. She wept at the door of his cell as she too received her Jesus!
I love the Lord with all my heart and mind and soul. To me there is nothing outside of the Lord. Everything is in Him and everything comes from Him.
Thank you Jesus, I love you. Thank you for touching my life with Heaven. I see my home. I see my destiny. I see my calling. I see my future. I see goodness and live and peace.
Yes. I also fully and completely realize that I live on Earth. Sometimes the phrase we all have heard, "So heavenly minded that he was no earthly good," can be real in all Christians lives. It's because we are so filled with gratitude and happiness for being saved out of our sin and separation from God.
Usually the people who are most excited about God are those who have been greatly delivered from immense sin, a life full of sin and evil. Having almost lost my life a number of times, and then being dramatically saved by Jesus, I cry with joy and love for my salvation.
Do you have this kind of love? Sir or Mame, do you have the assurance in your heart that if you passed away tonight that you would go to heaven? If that's a yes, do you base it on the blood of Jesus on the cross? If it was a no, then stop right now and say, "Jesus, if you're real, here I am." (Acts 2:21) (John3:16) (Romans 10:13) (John 20:31)
Welcome to the wonderful world of eternity my new friend! Study God's Word, Pray-talk to God, find a Bible teaching Spirit filled, faith filled church that you know that God has led you to. Be hungry for things of God. Walk away from the sin of the world. Tell all your family and friends what you have done. Pray with each one of them to receive Jesus as Savior. All of you now go to church and learn the Word of God. Always know that salvation is personal and not a church thing. Okay? It's you and Jesus, not you and the church. Church is simply a gathering of the family of God. Got it?
John :)
Biggs Junction, Oregon
Wednesday February 18, 2015